Lug Pitter Patter Carry All Diaper Bag Backpack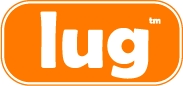 These are the days of hands free Travel, whether it be around town or going on a small trip. Bringing the baby is easy with this BackPack Diaper Bag. Filled with all kinds of features.
The Pitter Patter Backpack Diaper Bag is perfect hands-free solution for when you've got baby in tow. This over-both-shoulders, carry-all features easy access pockets and all of the essentials features you've come to love about our diaper bags, in a wonderfully simplified form!
Features & Benefits:
13"w x 16"h x 7.5"d